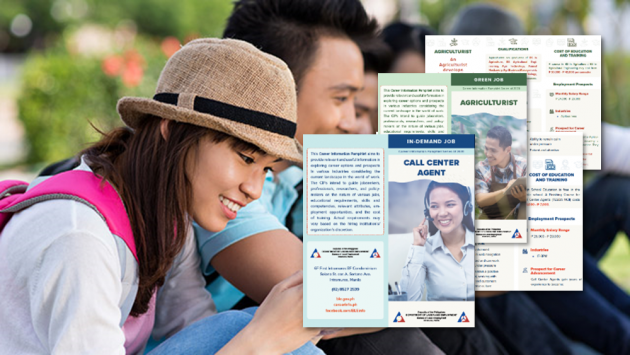 The Bureau of Local Employment (BLE) has released a new set of updated career guides to supplement the government's employment recovery efforts during the pandemic. The labor department's local employment arm periodically releases such guides to aid jobseekers and students alike make informed decisions about their chosen careers.
The guides can be accessed at cip.philjobnet.ph, a Career Information System developed and maintained by the BLE. The database provides valuable information such as nature of work, basic educational requirements, skills and competencies, attributes, employment opportunities, and cost of education training.
The release of over 100 occupational briefs is in line with the worker-centered thrust of the National Employment Recovery Strategy (NERS), the official jobs recovery plan of the Philippine government, which DOLE co-chairs. NERS puts businesses and workers at the core of its operational framework, and upgrading and retooling of the workforce and facilitation of labor market access form its primary approach to stimulating growth and progress on the worker side.
The career guides feature occupations identified as in-demand in the coming years in the latest labor market signaling studies of the department, JobsFit 2022 Labor Market Information Report. Also featured are green jobs, or jobs that reduce environmental impact, contribute to climate change solutions, and provide not just economic benefits to workers and their communities, but environmental and social benefits as well.
The database of career guides has been made public ahead of its planned launch in September 2021, as the government amps up recovery measures in response to the heightened threat the Delta variant of COVID-19 poses to the economy. At the portal cip.philjobnet.ph, students and jobseekers find not just occupational briefs, but career advice and resources as well, to help them navigate the labor market in these uncertain times.