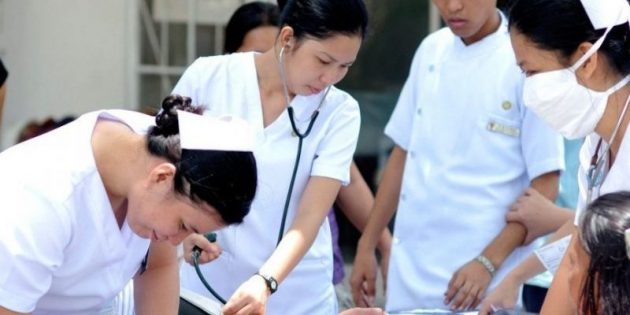 On 24 May 2021, the Department of Labor and Employment's Technical Working Group (TWG) on Mission Critical Skills (MCS) organized a meeting with the Department of Health and former DOLE Secretary Marianito Roque to discuss the issue of healthcare worker (HCW) supply and demand gaps. This is in line with DOLE's proposal of facilitating the re-employment of nurses returning from abroad by providing them opportunities in available government and private hospital vacancies.
The DOH presented the supply and demand for Physicians and Nurses in the Philippines. According to DOH's Health Human Resource Development Bureau (HHRDB), using data from the Professional Regulation Commission (PRC) and DOH's HR Information System, there is a total of 695,928 Physicians and Nurses nationwide.
36%, or around 250,000, of the registered Nurses and Physicians are known to be practicing in health facilities in the country; while 13%, or around 90,000, have been tagged as having unspecified practices. This may include those who are unemployed, practicing in other fields, undocumented migrants, or others that are not captured by existing registries.
The Sustainable Development Goals (SDG) indicators standard ratio is set at 14.3 physicians and 27.4 nurses for every 10,000 population, out of the estimated 110 million Filipinos in 2021. As of April 2021, the country needs 303,080 Nurses nationwide. However, only roughly 60% or 183,491 are currently practicing their profession resulting in a 120,000 gap between supply and demand.
For Physicians, it is estimated that the Philippine healthcare system needs 158,177 Physicians nationwide. However, there are only 42% or 66,775 who are practicing their profession as of April 2021; leaving the country with a 91,000 gap.
Labor Assistant Secretary and Concurrent BLE Director Dominique Rubia-Tutay presented the draft resolution developed by the DOLE MCS-TWG to address these gaps. The TWG recommends maintaining the 5,000 ceiling in the deployment of HCWs overseas, in consideration of the declining number of newly licensed health professionals to fill the supply pool of the country, until a new stable production for human resource for health (HRH) is reached. The TWG shall periodically re-evaluate the recommended ceiling once the full system of HRH production has resumed, i.e., offering/resumption of regular classes for health profession education, and resumption of professional licensure examinations.
HCWs under the Balik Manggagawa category, or those with consummated contracts from the 5,000 ceiling, are exempted from the deployment cap. Health support workers with sufficient supply and whose length of education requirement for qualification is shorter compared to health professionals and for which no professional licensure is required, such as nursing aides and assistants, are also excluded from the ceiling. Candidates under government-to-government labor agreements have also been identified as part of the exemptions.
The TWG is also exploring mechanisms to grant special exemptions to HCWs who have provided at least six (6) months service to the Philippine health system under any healthcare facility (government or private), especially during the state of public health emergency due to COVID-19. HCWs shall be required to submit certifications attesting the completion of the 6-month required service to be validated by a competent government authority and to be presented prior to securing the Overseas Employment Certificate (OEC) or departure clearance.
The TWG is also considering the development of an e-jobs portal specific to returning HCWs. The Public Employment Information System and PhilJobNet, both being maintained by the Bureau of Local Employment, may be utilized for the said purpose.
END/